ASTRA BAR
MYKONOS MOST ICONIC AND LONGEST LASTING BARS
A VISION OF STARS
ASTRA CREATES AN UPARALLED AND UNIQUE ATMOSPHERE WHICH MUST BE EXPERIENCED FIRST HAND.
In 1987 Minas designs and builds the Astra bar on the island of Mykonos. There was always a need for him to create a space for the public, a dream he achieved through Astra. Every detail was designed by Minas. The roof is a faithful reconstruction of the night sky over the northern hemisphere. The building is in full harmony with it`s surroundings space and the islands aesthetic. Inside, there is an emblematic picture of Apollo, chosen as Delos is located next to Mykonos, the birth place of the god, herald of light and music. Astra is one of the most characteristic locations on the island, unchanged since its creation in 1987, through the years hosting a plethora of great artists.
"Mykonos most iconic and longest lasting bars, unchanged after all these year"
ILLUMINATING THE NIGHT SKY
The ceiling incorporates over 2500 fiber-optic lights that directly represent the norther hemisphere`s night sky with it`s stars and constelations that pulses to the music. A unique piece of art that took months to create by hand.
JUNE. 2019
ASTRA BAR
ENTRANCE AND INTERIOR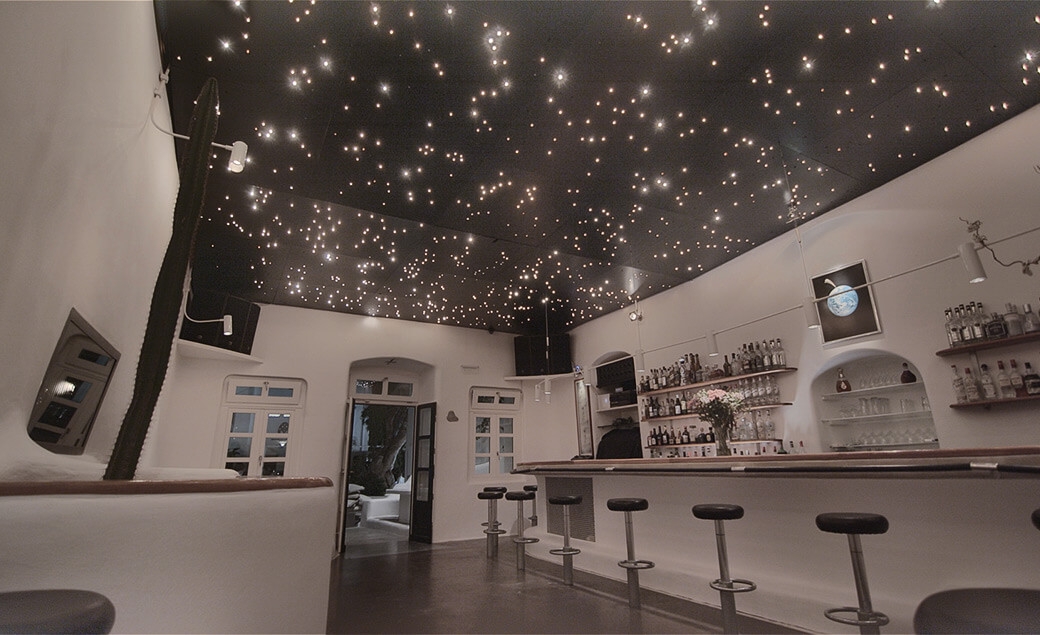 JUNE. 2019
ASTRA BAR INTERIOR
THE ICONIC CEILING MIRRORING THE NORTHERN HEMISPHERE, HANDCRAFTED BY MINAS AND HIS WIFE.
MAR. 1986
ASTRA BAR INTERIOR
IN RECOGNITION OF HIS WORK.